1.A new chapter in Nepal's quest for political stability
The Supreme Court order offers some respite amidst the political uncertainty, with lessons for Indian diplomacy too
On July 12, 2021, the Supreme Court of Nepal handed over a 168-page verdict on a case filed by 149 lawmakers out of the 275 parliamentarians demanding that Sher Bahadur Deuba be made the Prime Minister. Although the parliamentarians had gone to the Supreme Court as Mr. Deuba had gathered enough support to become the Prime Minister of Nepal under Article 76(5) of the Constitution, President Bidhya Devi Bhandari refused to entertain it. Instead,the President re-appointed K.P. Sharma Oli as the caretaker Prime Minister till the elections that they decided to hold in October and November 2021 were concluded. This ends now.
Impact of court intervention
Amidst such circumstances, the Supreme Court verdict has ended the collusion between Mr. Oli and Ms. Bhandari to continuously take decisions that were against the provisions of the Constitution. In December, when the President dissolved Parliament at the behest of Mr. Oli, the Supreme Court ruled against this order and reinstated Parliament. The Supreme Court even had a piece of warning for the President to remind her that the office of the President is also defined by the Constitution and hence, cannot be above it.
On Wednesday, July 14, 2021, Mr. Oli left his official residence at Baluwatar which, for the past three and half years, had become his office, party headquarters and the centre of power in Nepal comparable to Narayanhiti Palace during the direct rule of the Kings. He left his residence after addressing the nation in a manner similar to when King Gyanendra left the Narayanhiti Palace on June 11, 2008. His supporters had a procession.
The Oli years
In the past, Mr. Oli's popularity rose when he challenged India during the blockade in September 2015 and whipped up nationalism to emerge as the leader who could lead Nepal. For the 2017 Federal and Provincial elections, the two major communist parties, the Nepal Communist Party (Maoist) and the Communist Party of Nepal (United Marxist Leninist–UML), joined hands, and with a landslide victory, were to provide a stable government in Nepal in three decades. This coalition between the two parties had laid out some conditions, one of which was that Pushpa Kamal Dahal Prachanda and Mr. Oli were supposed to rotate the prime ministership. Even amidst these conditions and party coalitions, for the general Nepali public, Mr. Oli came with many expectations. He appointed a technocrat Finance Minister, a former Governor of the central bank, and other team members who, in people's eyes, were perceived to deliver the goods. Prior to taking over, he held various consultations. In one of the long sessions, he gave the impression that he means business. He had a slogan, 'Prosperous Nepal–Happy Nepali', that appealed to Nepalis both in the country and abroad, giving a feeling that, perhaps, the great moment has arrived for Nepal's transformation.
However, the infighting within the ruling party that united in May 2018 began to surface in December 2019. Mr. Oli had, in two years of his rule, ensured that his kitchen cabinet ran the country while his image and international relations were being handled by prominent citizens who kept defending him till the end. He unleashed crony capitalism. Many business groups gained from his rule.
International relations plummeted with Mr. Oli taking on India with an amended map of the country, which only affected bilateral relations. With the United States Millennium Challenge Corporation (MCC) grant not being ratified, ties have been hit as far as U.S. investors are concerned. With China, while he hosted Chinese President Xi Jinping during a whirlwind transit stop, the agreements never saw the light of the day when it came to implementation. The complaints of Chinese investors in Nepal in terms of governance and bureaucracy have been no different than the complaints of others.
However, his handling of the novel coronavirus pandemic created a public outcry due to a lack of health-care facilities. He was personally dragged into the Nepal vaccine scam in the purchase of vaccines from the Serum Institute of India. In his swan song, he tried to take credit for the support that Nepal received, which was more due to the goodwill Nepal has and the efforts of many known and unknown activists who ran from pillar to post in different countries to get support and vaccines for Nepal.
Looking ahead
The newly appointed Prime Minister, Mr. Deuba, has served as Prime Minister four times but does not have a great track record. He may have won the confidence vote of July 18 (picture). But in this, there is a great lesson for India to be learnt: on how not to push relationships through intelligence agencies and other tacit ways as it fails each time. This has been seen in earlier decades. India needs to continue to build on people-to-people relationships and engage through official channels of bilateral platforms and diplomacy. Let us not forget that geopolitics is changing as Nepal is now free from being 'India locked'.
In response to President Bidya Devi Bhandari's call for the formation of a government under Article 76 (5) of the Constitution, the Leader of the Opposition Sher Bahadur Deuba and Prime Minister KP Sharma Oli submitted separate claims on 21 May to her of commanding a majority of parliamentarians.
Deuba had the claim of support of 149 MPs while PM Oli had 153. It is not possible that there would be two majorities in the House of Representatives (HoR), and with the President rejecting both claims, the main question right now rests on the interpretation of Article 76 (5).
While the basis on which the Head of State reached the conclusion is a matter of her judicial discretion which cannot be questioned in court, it is nevertheless important to interpret and understand Article 76 (5) holistically, given the national importance of a prime minister's election.
In order to fully grasp the basis of the President's decision, it is important to go into the text of Article 76 (5): 'In case where the Prime Minister appointed under Clause (3) fails to obtain a vote of confidence under Clause (4) and any member under Clause (2) presents the ground on which he or she can obtain a vote of confidence in the House of Representatives, the President shall appoint such member as Prime Minister.'
Under the Constitution, therefore, this article requires four preconditions to be clearly fulfilled before a decision is made:
FIRST, the results from the application of Clause (4). While applying this clause, PM KP Sharma Oli sent a written letter to the President stating that as he did not have the numbers to obtain vote of confidence under existing circumstances, he recommended issuing the call under Clause (5) for the formation of new government. With the Prime Minister's recommendation following from his Cabinet's decision, the President had no choice but to make the call.
The opposition parties in the HoR initially criticised the recommendation of the Prime Minister and demanded he should rather have gone for a floor test. But then the leader of the opposition Deuba laid claim to government with 149 members under the President's call under 76 (5) as recommended by the Prime Minister. PM Oli then also laid claim to government, saying he had the support of 153 members.
What we see thus is a majority in HoR recognising activation of Clause (4) by default and the prime minister's inability to gain confidence of the House. If that were not the case, there would not have been the condition for the claims of both candidates to be considered under Article 76 (5). Thus, there we see unanimous acceptance of the fact that the Supreme Court's 23 February 2021 decision requiring the House to proceed through the application of Clauses (1), (2), (3), (4) and (5) had been followed to the letter. The political parties have themselves resolved the debate around this matter by participating in the call by the president.
SECOND, the candidature for prime ministership under Article 76 (5) should be of a member of the HoR under Clause (2). This clause specifies, 'any member of the House who can get a majority with the support of two or more than two parties' may present the basis for obtaining the House of Representatives' vote of confidence.
When read in the context of Article 76 (5), any House member, not necessarily the parliamentary party leaders of larger parties, who presents basis for gaining vote of confidence can be appointed prime minister. Under the process guided by these constitutional provisions, there can be no doubt that the support of political parties to such a candidate is a necessity.
This aspect is evident in Deuba's claim being supported by the Nepali Congress and CPN (Maoist Centre) along their party lines. In the case of PM Oli's claim, however, the support of both the CPN (UML) party which he leads as well as the Janata Samajbadi Party is divided, denting his claim. His claim of majority is therefore subject to disapproval.
THIRD, the prime question is whether the signatures or support of MPs during the process under Article 76 (5) that go against the decision of their parties are to be given validity. While the Deuba's claim is based on an independent position taken by 38 MPs of the UML and JSP combined, the President appears to have accorded recognition to all members of the House.
The president could have rejected the application at the first instance, using her privilege of office. Deuba's claim was allowed to be registered following due process by the president herself.
It was not possible to reject the application by Prime Mnister Oli because his claim included the decision of the parties concerned and the name-list of MPs by party. It was not unnatural for the two sides to place applications, given that the JSP as a party which had earlier decided to remain neutral had changed its decision at the last minute and to participate in the process under 76 (5).
FOURTH, the application under Article 76 (5) made before the President for appointment as prime minister requires placing 'the basis (आधार) to be able to win a vote of confidence'. What this means is that the President will have to have confidence that the prime minister appointed under Article 76 (5) is able to win the confidence vote within 30 days pursuant to Article 76 (4).
In other words, regardless of the claims of a candidate to majority support at the time of application, the president's concern would be to see if there is basis for the candidate winning a confidence vote within 30 days. As the defender of the Constitution and seeking stability for the polity, it would be natural for President Bhandari to see the verifiability of a claim to majority within the time frame of 30 days as stipulated in the Constitution.
When there is no debate on the matter, there would be no questioning claims of a candidate of the support of MPs, whether numbering 149 or 153. They both are majority numbers. But in the current instance, both applications to the President were contentious. Further, the president had been formally informed in writing that some MPs of the CPN (UML) and JSP have supported the application of another party, and that those two parties were to carry out disciplinary actions against those Members of Parliament.
Given that the law on political parties stipulates clearly that the parliamentary procedure for the suspension or ouster of MPs can take no more than 15 days, it becomes clear that neither list before the President was likely to remain intact by the time the vote of confidence was sought within the 30-day stipulation. Thus, the president was unable to give her assent to either application.
Can party MPs vote independently?
It is important to understand here that while MPs may try to go outside the bounds set by their parties, the Constitution and law relating to political parties and associated regulations provide strong basis for the parties to keep their MPs in check and under party discipline.
There is no existing law or constitutional provision that allows us to choose between what action by an MP attracts party disciplinary measures and what does not. There is no basis to the argument that the disciplinary action against MPs may not be applied selectively for certain clauses of the Constitution. In essence, the political parties are sovereign in their ability to ensure party discipline in Parliament under any and every circumstance.
2.China denies politics behind UNESCO move on Barrier Reef
A top Chinese official said on Sunday that political tensions between Beijing and Australia were not behind a UNESCO recommendation to place the Great Barrier Reef on its endangered list.
Deputy Education Minister Tian Xuejun is chairing the meeting of the UN cultural agency's heritage committee, which comes amid worsening relations between China and Australia.
The Great Barrier Reef has been put on a list of World Heritage sites that could be put on the in-danger list after losing half of its corals since 1995.
Australia has assailed the move, blaming global warming for the loss, while UNESCO experts argued that pollution run-off has contributed to the loss.
When asked about "Australian government allegations" that Beijing pressed to have the Barrier Reef listed as endangered, Mr. Tian said the decision was based "on reports and data provided by Australia itself." "Australia should fulfil its obligations to protect world heritage sites instead of making baseless accusations against other members" of UNESCO, he added. Both China and Australia are among the 21 nations on heritage committee, which is evaluating nearly 50 sites that could be added to its more than 1,100 World Heritage list.
Why in News
Recently, the UNESCO World Heritage Committee has recommended that the Australia's Great Barrier Reef should be added to a list of "in danger" World Heritage Sites.
Placement on the ''in-danger list'' is not considered a sanction.
Some nations have their sites added to gain international attention and help to save them.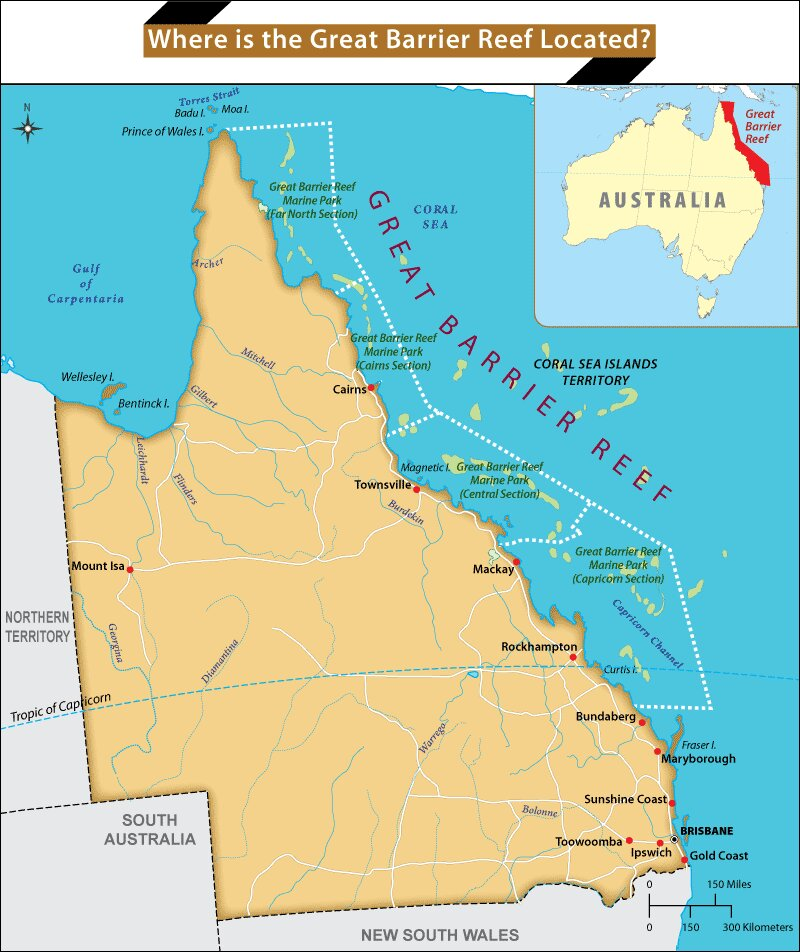 Key Points
Reason behind this Move:

It was recommended to add to the list because of the impact of climate change.
Despite Reef 2050, the coral reef ecosystem has suffered three major bleaching events since 2015 due to severe marine heatwaves.

The Reef 2050 Long-Term Sustainability Plan is the Australian and Queensland Government's overarching framework for protecting and managing the Great Barrier Reef by 2050.
When corals face stress by changes in conditions such as temperature, light, or nutrients, they expel the symbiotic algae zooxanthellae living in their tissues, causing them to turn completely white. This phenomenon is called coral bleaching.
Marine heatwave is an event of anomalous warm sea surface temperatures (SST​) from several days to years.

Repercussions:

It prompted environmental groups to take aim at the Australian government's reluctance to take stronger climate action.
Australia, which is one of the world's largest carbon emitters per capita, has remained reluctant to commit to stronger climate action and has cited jobs as a major reason to back the country's fossil fuel industries.

It has not updated its climate goals since 2015.

About Great Barrier Reef:

It is the world's most extensive and spectacular coral reef ecosystem composed of over 2,900 individual reefs and 900 islands.
The reef is located in the Coral Sea (North-East Coast), off the coast of Queensland, Australia.
It can be seen from outer space and is the world's biggest single structure made by living organisms.
This reef structure is composed of and built by billions of tiny organisms, known as coral polyps.

They are made up of genetically identical organisms called polyps, which are tiny, soft-bodied organisms. At their base is a hard, protective limestone skeleton called a calicle, which forms the structure of coral reefs.
These polyps have microscopic algae called zooxanthellae living within their tissues. The corals and algae have a mutualistic (symbiotic) relationship.

It was selected as a World Heritage Site in 1981.

Initiatives to Protect Corals:

A number of global initiatives are being taken to address the issues, like:

International Coral Reef Initiative
Global Coral Reef Monitoring Network (GCRMN)
Global Coral Reef Alliance (GCRA)
The Global Coral Reef R&D Accelerator Platform
Similarly, the Ministry of Environment and Forests and Climate Change (MoEF&CC), India has included the studies on coral reefs under the Coastal Zone Studies (CZS).

In India, the Zoological Survey of India (ZSI), with help from Gujarat's forest department, is attempting a process to restore coral reefs using "biorock" or mineral accretion technology.
National Coastal Mission Programme, to protect and sustain coral reefs in the country.
Coral Reef
Largest Coral Reef Area:

Indonesia has the largest coral reef area in the world.
India, Maldives, Sri Lanka and Chagos have the maximum coral reefs in South Asia.
The Great Barrier Reef of the Queensland coast of Australia is the largest aggregation of coral reefs.

Coral Reef Areas in India:

India has four coral reef areas: Gulf of Mannar, Andaman and Nicobar Islands, Lakshadweep islands and the Gulf of Kutch.

Benefits:

Protect humanity from natural calamities.
Provide revenue and employment through tourism and recreation.
Provide habitats for fishes, starfish and sea anemones.

Use:

They are used in jewellery.
Coral blocks are used for buildings and road construction.
The lime supplied by corals is used in cement industries.

Threats:

Due to anthropogenic activities such as coastal development, destructive fishing methods and pollution from domestic and industrial sewage.
Due to increased sedimentation, over-exploitation and recurring cyclones.
Coral diseases such as black band and white band due to infectious microorganisms introduced by the human population that live on the coastal regions.

Role of Mangroves:

Mangrove forests play a crucial role in helping the coral reef system by acting as filters and providing protection from cyclones, storms and tsunamis.
3.Beware of new low-risk, high-return promise
Products such as perpetual bonds may carry an aura of safety but in reality there is little to cheer
Sellers of equity products never fail to tell you that their products are subject to market risks. It is a different matter that you understand those risks only with experience. But when it comes to debt, risk is not the key word. After all, your debt investment is supposed to hedge your other risks!
In the past couple of years, sellers of debt products have become better at a narrative of high returns with no or least risk. Yes, we are talking of products such as perpetual bonds, market-linked debentures/covered bonds, home loan-backed bonds and even some of your debt funds.
At a time when your bank FD rates are at a low, a promise of disproportionate returns for low risks can be an easy lure for you. But at such times, it is best to get back to basics of investing: when you have a product that delivers far higher returns than your FDs, where from and how does that return come? Let us take a few examples to highlight the risks in such products and why the doctrine of 'buyer beware' is more important now than ever before if you are a retail investor.
Perpetual attraction
In 2019 and early 2020, perpetual or Additional Tier I bonds (AT1 bonds) issued by banks were sold to retail investors by the banks issuing them. What was the selling proposition? That AT1 bonds are high-return substitutes to bank FDs or non-convertible debentures. But this promise was far from the truth. First, these products are allowed to skip interest payouts if their Tier I capital falls below a certain level or they suffer losses or have insufficient reserves. They have no obligation to pay you later nor can they be sued for it. If that isn't a significant variation from your humble FD, here's more.
Second, although there is no maturity date, perpetual bonds were often mis-sold as limited-period bonds. These bonds only have a 'call option' and not a maturity date. This gives the borrower the right to redeem the bond at the end of, say, 5 or 10 years. But this is an 'option' and not a mandate. So, if you need the money any time, you will need to sell in the market. This can also be at a loss if they are poorly traded, or the interest rate cycle is adverse.
The final nail is that the RBI can direct a bank to fully write off this bond (remember Yes Bank's perpetual bonds?) liability if it thinks the bank is at a point of non-viability (PONV) or requires capital infusion by another public sector bank to prevent going defunct. Yes, your principal can be written off and you will have no recourse. Now, this is worse than holding equity, where you can at least get a market price for your assets.
Safety illusion
A more recent popular product among retail investors are covered bonds/market-linked debentures/structured products. These alternative investment products, earlier made available only for risk-taking HNIs, are now being made available to retail investors, seemingly to provide them with 'access to high returning products.' Let's take the case of the now-popular covered bonds. These bonds, which are nothing but a pool of loans, are sold with the safety of an asset backing, typically property or gold — two assets that immediately provide you with an illusion of safety!
But if these bonds are safe, why are they paying you 10-11% returns as opposed to 6% in banks? So, here's what you will not know unless you dig in. The loan pool that is packaged to give you this bond typically comes from an NBFC that is not top-notch. Why do they need this money at such a high rate? Likely because they are unable to source funding through the regular channels or they come at a high cost. Why so? Because, these NBFCs do not have a high credit standing — with an A-rating or even BBB rating.
And, as you can guess, a lower-rated NBFC's pool of assets is unlikely to be made up of quality borrowers! But how about the property backing? Yes, that can be liquidated if your due is not paid. But wait, don't banks do this for a living and struggle to sell and monetise these assets? Is it not time consuming? Does that really provide you with greater sense of safety? And remember, there is no debenture redemption reserve. There is no ₹5 lakh deposit insurance here as in the case of a bank. Besides, the RBI may come to the rescue of a sinking bank but hasn't done that for a sinking NBFC! In other words, there is much to uncover before you can even look at a covered bond.
Then there are the ultra-rich, fancied market-linked debentures or MLDs (covered bonds can also have this feature) which simply means, your returns promised is contingent upon a given benchmark index remaining at a certain level. In other words, you may not even be paid interest if the index goes below a certain level. Much of what we mentioned about covered bonds applies here too. But the lure is this — MLDs enjoy equity taxation, simply because they are (seemingly) linked to the market!
I could go on adding to this list as these products are now being innovated at a fast pace when all other fixed income options return poorly now. In your fear of missing out (FOMO), do not break the cardinal rule: if an investment product comes with the promise of higher returns, it also comes with the baggage of higher risks. In debt, this risk can not only mean just zero returns but also zero capital!